Alcohol & Other Drugs (AOD)
The Alcohol & Other Drugs (AOD) program is committed to reducing the negative impact associated with substance use, while cultivating an environment in which MSU students can flourish personally, civically and academically. The services are guided by a belief that students are capable of making wise, well-informed decisions about alcohol and drugs when provided the information, education, and support necessary to do so.
Alcohol & Other Drugs Education and Referral
The AOD Health Promotion staff offers educational sessions for students concerned about their own alcohol and other drug use or that of a friend or family member.
Medical Amnesty: See. Call. Stay.
Make the call. In Michigan, students who are under the legal drinking age may now reasonably expect that if they seek medical assistance for themselves or a friend when there are health care concerns related to alcohol use, they will not face criminal prosecution.
MSU's new medical amnesty policy supports students seeking medical care for themselves or others in case of intoxication or injury. With medical amnesty, there is no reason not to call 911 if you are worried about a friend you think might need medical care. If you see a friend in trouble, make the call, then stay with them until help arrives. Learn more about MSU's medical amnesty policy here. 
---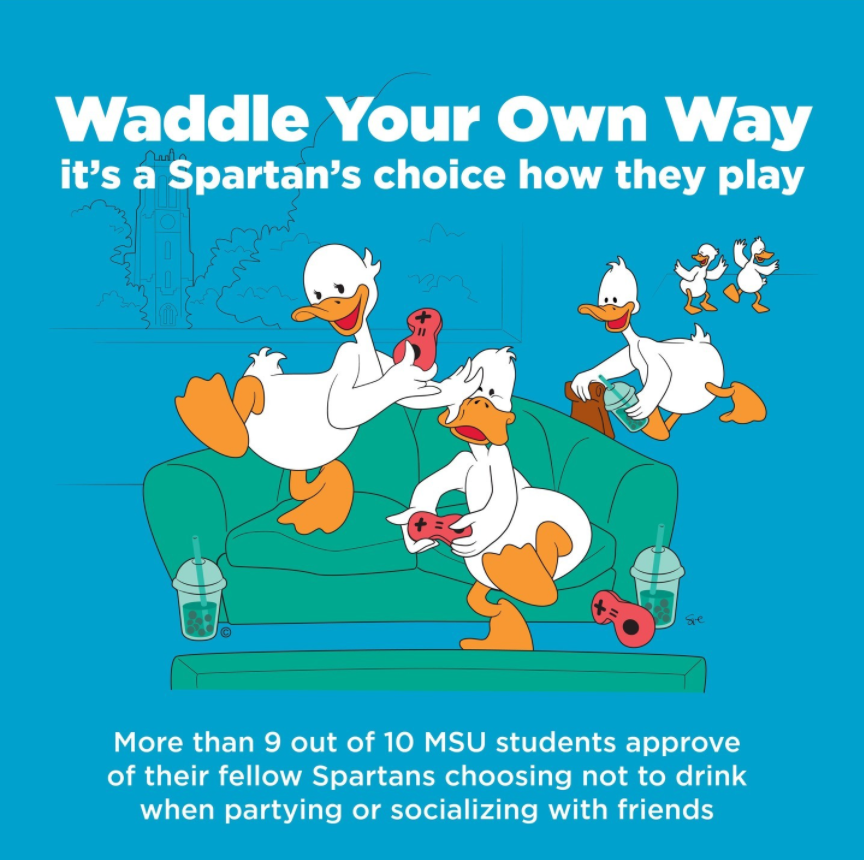 Alcohol Use at MSU: What does the data tell us?
At MSU, the vast majority of students drink moderately. But if someone chooses not to drink — or has too much and needs medical attention — fellow students are ready to support each other.
So what does the data tell us? 
Seven out of 10 MSU students consume 0–4 drinks when they party.
More than nine out of 10 MSU students approve of their fellow Spartans choosing not to drink when partying or socializing with friends.
Nine out of 10 MSU students would call 911 for a friend who had passed out from drinking. 
Looking for extra support? That's why we're here. See how we help students year-round below.
Tobacco Quitline program
Michigan Tobacco Quitline is open to all MSU employees, spouses of MSU employees, and MSU students. It is a FREE service that provides you with a professional Quit Coach, a personalized quitting strategy, and other resources to help you quit smoking. You can even call if you are helping someone else to quit smoking.
Call 1-800-QUIT-NOW (1.800.784.8669) to learn about how you can get help to quit smoking.
Visit the Michigan Department of Health and Human Services Quit Tobacco Tools & Resources page for more resources to help you quit!
Click here for a flyer describing the Tobacco Quitline program.
---
MSU Biennial Review of Alcohol and Other Drug Programs
In compliance with the Drug Free Schools and Communities Act, all institutions of higher education receiving federal funding are required by law to conduct a biennial review of campus alcohol and other drug programs and policies.
2020-2022 Michigan State Biennial Review
On-Campus Services
Alcohol and Drug Education
Court-ordered Breathalyzer
Counseling
Legal Services
Tobacco Cessation Counseling/Coaching
---
Off-Campus Services
Court-ordered Assessment and Education
Court-ordered Breathalyzers and Drug Screens
Alcohol Drug Administrative Monitoring (ADAM)
517.332.3804
Alcohol Drug Education Program (ADEP)
517.999.0092
Drug/Alcohol Detoxification
Information and Referral
Care Coordination Center
888.230.7629
Inpatient Treatment Services
Outpatient Treatment and Counseling
---
Self-Help Resources
Alcoholics Anonymous (AA) Meetings
On-Campus:
Wednesday Sense of Humor Group at 8 pm in Rm 3400, Engineering Building
Off-Campus in East Lansing:
Sunday at 8 pm - St. Thomas Aquinas Church
Monday Back Porch Group at 7:30 pm - University Lutheran Church (Gay/lesbian meeting, but all alcoholics welcome)
Tuesday Women's Group at 6:30 pm - University Lutheran Church
Tuesday BB Study Group at 7 pm - People's Church
Thursday Primary Purpose Group at 6:30 pm - Eastminster Church
Friday Young Survivors Group at 9:30 pm - Eastminster Church
Friday Gay/Lesbian Step Meeting at 6:30 pm - United Ministries (Gay/lesbian meeting, but all alcoholics welcome)
Saturday Live Meeting at 10 am - Eastminster Church
For additional AA meetings in Lansing and the surrounding area click here or call 517.377.1444.
Nicotine Anonymous Meetings
On Campus:
Tuesday at 8 pm - Engineering Building, Room 2320
Narcotics Anonymous (NA) Meetings
On Campus:
Gambler's Anonymous 
Off-Campus in East Lansing
Friday at 6 pm - Edgewood United Church, 469 N. Hagadorn Road, East Lansing
SMART Recovery
Online Meetings and ensible Tools for Addiction Recovery
e-chug
A brief, confidential, interactive alcohol assessment tool
---
Other Resources