Nutrition
The Nutrition Program for students at MSU is focused on supporting all people within our campus community to achieve eating competence. The work we do in nutrition counseling sessions, outreach programming, and health communication promotes a non-diet approach using the eating competence model and a weight-inclusive approach to support health.
The Nutrition Program provides services guided by a belief that students are capable of making wise, well-informed decisions about nutrition when provided the information, education, and support necessary to do so.
Registration for the Fall 2021 Peer Body Project ends September 30!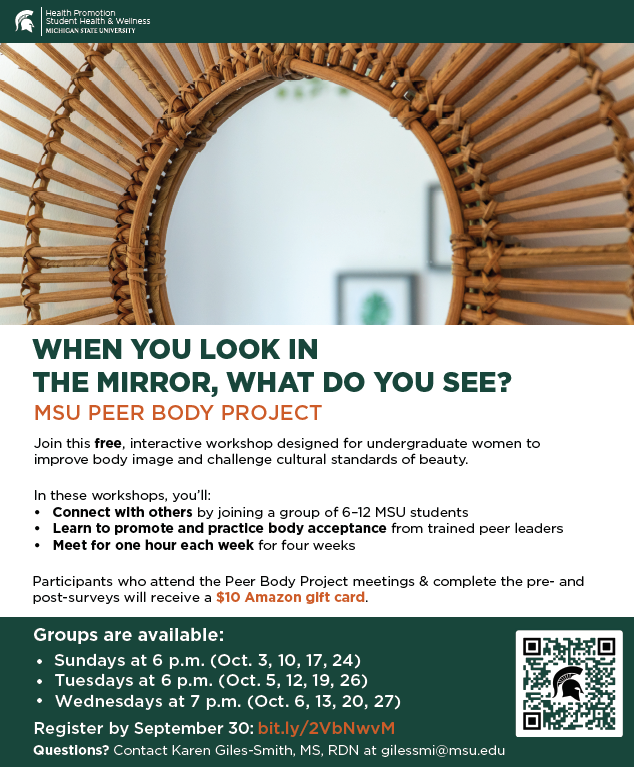 Join this free, interactive workshop designed for undergraduate women to improve body image and challenge cultural standards of beauty.
Meet for one hour each week for four weeks. Groups are available at the following times:
Sundays at 6 p.m. (Oct. 3, 10, 17, 24)
Tuesdays at 6 p.m. (Oct. 5, 12, 19, 26)
Wednesdays at 7 p.m. (Oct. 6, 13, 20, 27)
Participants who attend the Peer Body Project meetings and complete the pre- and post-surveys will receive a $10 Amazon gift card.
Download the flyer to for more details or register below.
Learn more about all our nutrition services below. 
Body Image
Health at Every Size 
Eating Competence

Eating Disorders
Irritable Bowel Syndrome (IBS)
MSU Student Food Bank
Vegetarian/Vegan
Recipes