eCHECKUP TO GO- Alcohol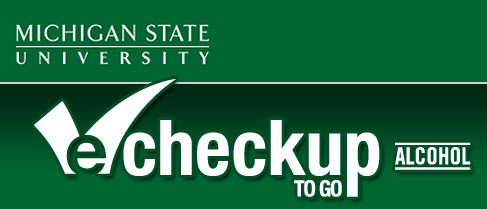 Most MSU students will not experience any harm due to their alcohol use, either because they consume alcohol moderately and take steps to protect themselves from harm, or because they do not drink at all. However, because the abuse of alcohol is so strongly correlated with many of the most serious personal traumas, disappointments, and failures students experience at college, it is critical for the success, health, and vitality of our entire campus that every student is able to thoughtfully monitor drinking patterns, identify significant risk factors, and be familiar with the resources and help available on campus and in our community. Using the Alcohol eCHECKUP TO GO is an important first step in that process.
What is the Alcohol eCHECKUP TO GO? 
The Alcohol eCHECKUP TO GO is a brief, anonymous and confidential, interactive assessment tool that provides students with individualized feedback regarding their alcohol use that helps to identify any risk of harm associated with use. This tool was developed by San Diego State University and is currently used by nearly 400 colleges and universities across 42 states, as well as in Canada and Australia. This tool is free to MSU students with no limit on how many times the assessment can be taken, allowing for tracking alcohol use over a period of time. 
How does it work?
When accessing eCHECKUP TO GO, you will be prompted to enter information about yourself. In addition to demographic information, it will ask you to enter information about your drinking habits, family history of alcohol use, and perception of alcohol use by your peers. After all the information has been entered, this tool calculates a number of variables and compares your response to assessment thresholds and national and local college norms. You are then provided with personalized feedback in an easy-to-read, printable format, with links to additional information to help you better understand your feedback and how your answers were interpreted. 
How do I use eCHECKUP TO GO? 
To use eCHECKUP TO GO, click on the link below and follow the instructions. If you have not previously used this tool, you will be assigned an ID number. Please record this number for later use to allow you to log back into the system and to track your responses over time. This ID number will also be displayed on the final print out of your personalized feedback form. If you have previously used this tool, you will be prompted to enter your eCHECKUP TO GO ID number to get started. If you do not recall your ID number, you can still use the tool, but it will not recognize you or your previous responses, as the system does not track user's responses through any other mechanism.
IMPORTANT!
Once you have completed the assessment and have reviewed your personal feedback, you will be prompted to enter your name, email, and fill out an Electronic Verification of Completion form. If you are an MSU freshman and have been directed by the University to complete the eCHECKUP TO GO, please make sure you enter this information accurately as it is the only way MSU has of confirming that you have completed the assessment. The identifying information you submit is separated from your assessment responses and profile so that the University will only receive confirmation that you completed the assessment. The University will not under any circumstances have access to your results. If you are not an MSU freshman, you may skip the prompt for your name and email.
How will the results be used? 
eCHECKUP TO GO is intended to be a confidential, self-assessment tool to promote individual awareness and increase personal knowledge. Therefore, the results of your assessment are for your use and for your eyes only. San Diego State University will provide anonymous, aggregate data upon request by MSU, to be used to help guide educational efforts pertaining to the needs and the interests of the student body. 
How is this valuable to non-drinkers and low-risk drinkers?
While there is a good portion of students on this campus who either do not drink or drink very infrequently, most students will at some point know someone, (a classmate, friend, family member), who drinks at levels that cause them concern. eCHECKUP TO GO will provide some basic knowledge about alcohol and help all students identify risk factors and patterns that lead to dangerous and destructive drinking. It also provides a listing of local and campus resources available to individuals who may have an alcohol and/or drug problem. Knowing this information can strengthen a person's ability to help friends when they need help and make the MSU campus a safe and fun place to live, work, and play.
A Note of Thanks
Taking good care of ourselves and helping our friends are actions we know to strengthen and bring vitality to our Michigan State University campus community. Thank you for completing this program. Your commitment to become knowledgeable, compassionate, and constructive members of the Spartan community is very much appreciated.