eCHECKUP TO GO- Marijuana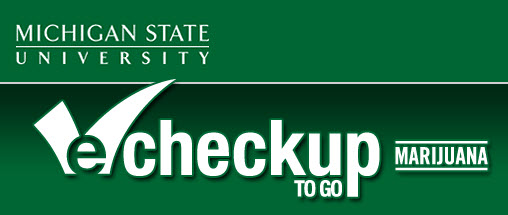 What is the Marijuana eCHECKUP TO GO? 
The Marijuana eCheckUpToGo is an anonymous and confidential marijuana-specific brief assessment and feedback tool designed to assess marijuana use among college students. The assessment takes about 10-15 minutes to complete, is self-guided, and requires no face-to-face contact time with a counselor or administrator.
How does it work? 
When you access the Marijuana e-CheckUp To Go, you will be prompted to enter some basic information about yourself. In addition to demographic information, you will enter information about your use of marijuana, spending patterns, and lifestyle. After all the information has been entered, you will submit the form and the information you entered will be validated and then processed. The tool calculates a number of variables and compares your responses to national and local college norms. Then, that information is displayed in an easy-to-read format.
How do I use it? 
To use eCHECKUP TO GO, click on the link below and follow the instructions. If you have not previously used this tool, you will be assigned an ID number. Please record this number for later use to allow you to log back into the system and to track your responses over time. This ID number will also be displayed on the final print out of your personalized feedback form. If you have previously used this tool, you will be prompted to enter your eCHECKUP TO GO ID number to get started. If you do not recall your ID number, you can still use the tool, but it will not recognize you or your previous responses, as the system does not track user's responses through any other mechanism.
How will the results be used? 
eCHECKUP TO GO is intended to be a confidential, self-assessment tool to promote individual awareness and increase personal knowledge. Therefore, the results of your assessment are for your use and for your eyes only. San Diego State University will provide anonymous, aggregate data upon request by MSU, to be used to help guide educational efforts pertaining to the needs and the interests of the student body. 
A Note of Thanks
Taking good care of ourselves and helping our friends are actions we know to strengthen and bring vitality to our Michigan State University campus community. Thank you for completing this program. Your commitment to become knowledgeable, compassionate and constructive members of the Spartan community is very much appreciated.