6th Annual Healthy Homecoming Walk to Take Place September 29
September 21, 2021 - Elizabeth Carr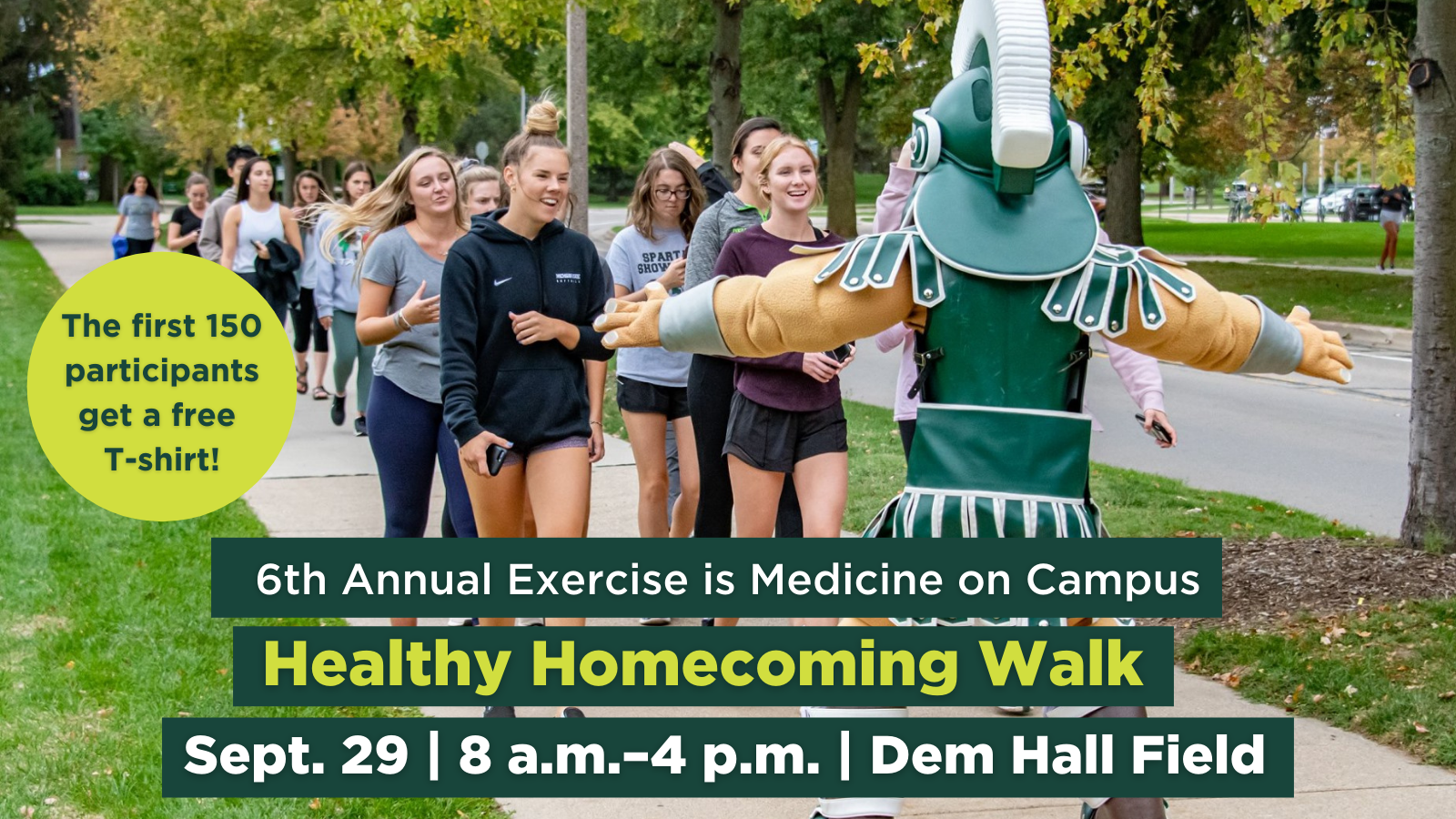 Michigan State University will host the sixth annual Exercise is Medicine on Campus (EIM-OC) Healthy Homecoming Walk on Wednesday, Sept. 29.
The walk is a friendly competition with other EMI-OC universities in the U.S. and aims to promote exercise on campus. Participants can walk quarter-mile laps around the sidewalk of the field at Demonstration Hall any time between 8 a.m. and 4 p.m. In the event of inclement weather, the walk will take place inside Demonstration Hall Arena.
Participation is open to MSU students, faculty, staff and alumni and the first 150 people will get a free T-shirt.
Kristin Traskie, fitness and wellness program coordinator in MSU's Health Promotion department, said the Healthy Homecoming Walk is just one way students can enjoy physical activity and connect with others on campus.
"Getting regular physical activity is a big part of keeping our bodies and minds healthy," Traskie said. "Exercise is Medicine is a national initiative that encourages universities to make movement part of daily campus culture. Exercise is a great way for students to connect with one another, manage stress and develop healthy habits."
Also on Sept. 29, the field at Demonstration Hall will host the final fall semester Well-Being Wednesday: Reunited in Motion event from 11:30 a.m. to 12:30 p.m. The event will include wellness activities, mindfulness activities, therapy dogs and demonstrations from departments across MSU. Well-Being Wednesday events are open to students, faculty and staff.
"With so many students on MSU's campus for the first time, or after more than a year away from campus, it's important that we help them build a sense of community, connect with services and resources, and make the most of their college experience," Traskie said. "We're proud to offer events like the Healthy Homecoming Walk and Well-Being Wednesdays to support physical and mental health on campus." 
For more information on the Healthy Homecoming Walk and other Health Promotion initiatives, visit healthpromotion.msu.edu.  
# # #
Media Contact

Elizabeth Carr, Marketing & Communications Manager
Student Health and Wellness