MSU Earns Exercise is Medicine® Gold-Level Recognition for Seventh Year in a Row
April 22, 2022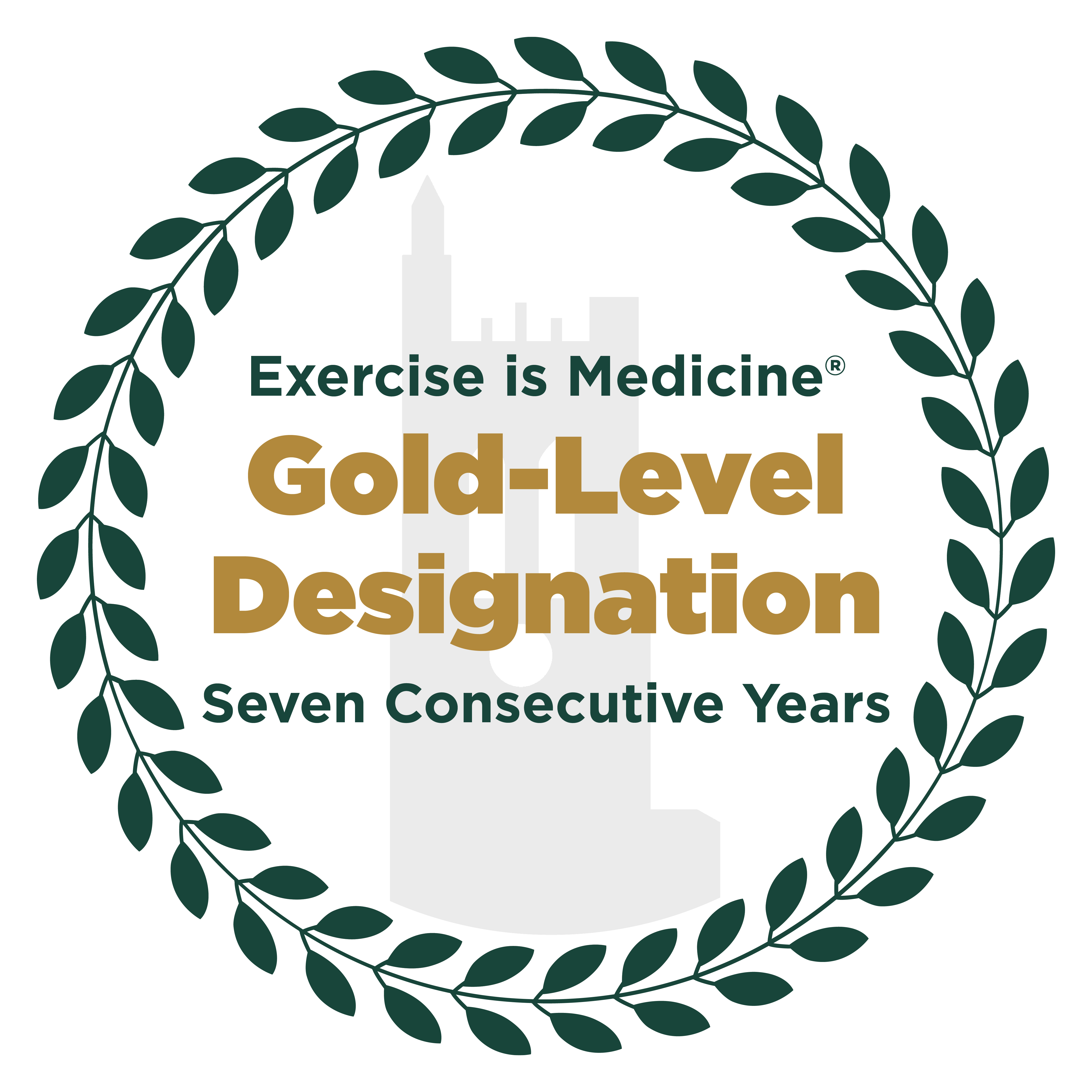 East Lansing, Mich., April 22, 2021— Michigan State University is one of only 73 universities and colleges around the world to earn gold-level designation from the Exercise is Medicine® program for its efforts to create a culture of health and well-being on campus.
This is the seventh year in a row that MSU's Exercise is Medicine On Campus (EIM-OC) program has earned the gold designation.
To earn gold, schools must have a referral system in place between health care providers and certified fitness professionals as part of medical treatment; education initiatives that engage students, faculty and staff; encourage movement as part of the daily campus culture; and promote awareness of the health benefits of physical activity.
Keith Nelson, M.D., director of Student Health Services at MSU said earning the gold designation supports the university's commitment to sustainable health strategies.
"As a physician, I am proud to know that one of the key pillars of the university's academic strategic plan is sustainable health," said Nelson. "We're becoming more focused on preventative health measures like physical activity that can benefit students during and after college, as well as provide faculty and staff on-campus opportunities to improve their well-being."
The MSU EIM-OC program at MSU began in 2014 and has grown to offer programs and services to students, faculty and staff like free group fitness classes, the annual Healthy Homecoming Walk, a speaker series, the ACTIVE Spartans Physical Activity Mentor program, a registered student organization and more. The Department of Kinesiology and the Health Promotion department within Student Health and Wellness lead the program. 
Fitness and Wellness Program Coordinator Kristin Traskie, who also serves on the EIM-OC leadership team, noted that the program is dedicated to creating a campus culture that focuses on student, faculty and staff well-being.
"Physical activity has a profound effect on our physical and mental health," said Traskie. "It's so important that we continue building a culture of well-being on campus. Incorporating movement into every day is a key strategy for preventing common health issues, mitigating stress, connecting with others and so much more. I'm proud to work with a student organization dedicated to enhancing the overall health and well-being of students, faculty and staff."
Fiona Baughman, a senior at MSU majoring in kinesiology, serves as the president of MSU's EIM-OC registered student organization. She reflected on the organization's success with a variety of programs and looked forward to the future.
"I am consistently impressed and inspired by the passion for physical activity I have seen throughout the club and the impact it can create on campus," said Baughman. From Well-Being Wednesdays involvement to destressing with physical activity breaks, we have been able to activate a culture of health and wellness across campus. As we move forward in our journey, we hope to continue motivating others to join the movement of promoting movement!"  
Of the 156 campuses recognized this year, 73 received gold, 60 silver and 23 bronze. All gold, silver and bronze universities and colleges will be officially recognized on June 1 as part of the 2022 Exercise is Medicine World Congress, held in conjunction with the American College of Sports Medicine's Annual Meeting.
EIM-OC calls upon universities and colleges to promote physical activity as a vital sign of health and encourages faculty, staff and students to work together to improve the health and well-being of the campus community.
For more information on the MSU EIM-OC program, visit healthpromotion.msu.edu/fitness.  
# # #
Media Contact
Elizabeth Carr, Marketing & Communications Manager
Student Health and Wellness