8th Annual Healthy Homecoming Walk to Take Place September 20th
September 20, 2023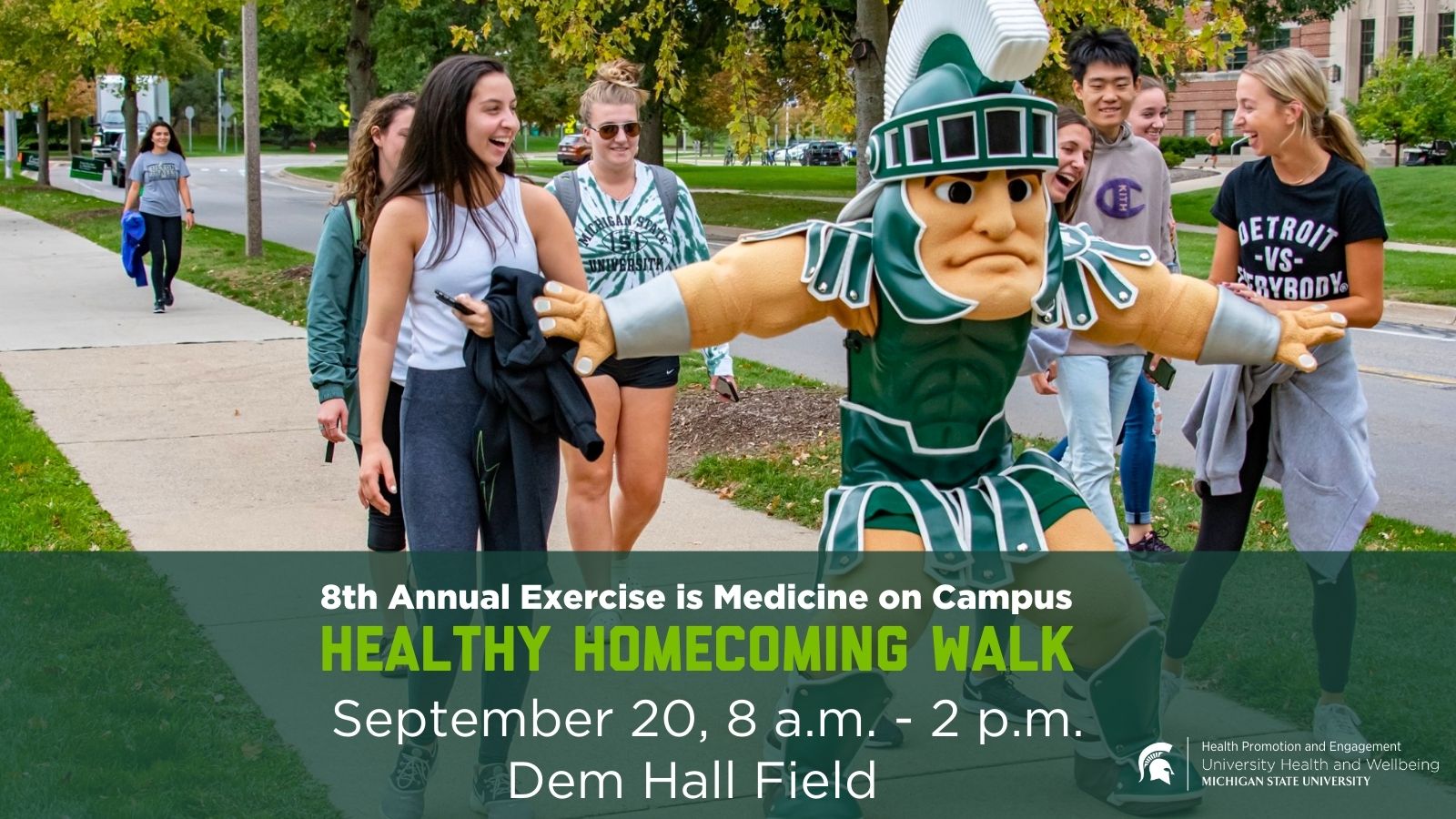 East Lansing, Mich., September 5, 2023— Michigan State University will host the 8th Annual MSU Exercise is Medicine on Campus (EIM-OC) Healthy Homecoming Walk on Wednesday, September 20 at Demonstration Hall Field. The walk is free and open to students, faculty, staff, alumni, and the first 100 participants will receive a free prize.  
The walk is a friendly competition with other EIM-OC universities in the U.S. and aims to promote exercise on campus. Participants can walk or wheel quarter-mile laps any time between 8 a.m. and 2 p.m. 
MSU campus partners will facilitate wellness activities, including  trivia wheels, duck shirts, inspirational stones, a bike ride around campus, a SPARTANfit fitness challenge and more between 11:30 a.m. and 1:30 p.m. 
New this year, the walk will be entered into the Largest Physical Activity Challenge, which is part of Healthy Campus Week 2023. The challenge encourages participants to share photos on social media throughout the day with #healthycampusweek2023. 
Kristin Traskie, Interim Associate Director of Health Promotion, EIM-OC Leadership Team, hopes the Healthy Homecoming Walk inspires the campus community to make physical activity part of the campus culture.  
"Through the efforts of the Exercise is Medicine on Campus program, Spartans are continuing to build a culture of wellbeing on campus, Traskie said. "Physical activity has a profound effect on our physical and mental health. Incorporating movement into every day is a key preventive health strategy that also offers the opportunity for us to connect and engage with others. Each year this walk provides an inclusive space for all Spartans to embrace and support movement."  
According to Lauren Posey, EIM-OC Registered Student Organization (RSO), Vice President, Exercise Is Medicine has provided students with the opportunity to engage in a wide range of physical activities as a way of connecting with one another and staying active in our daily lives. 
"This sense of community and exercise is such a vital part of our overall well-being and success here on campus. Beyond our time here on campus, I think it has created a foundation for a lifelong journey of moving our bodies in ways that make us feel good. The Healthy Homecoming Walk is a great example of the way movement can bring us together in such a diverse and inclusive space. It's amazing to be able to stay active with so many integral parts of our Spartan community from students to faculty to alumni."  
If it rains, we will resume all activities at MSU Recreational Sports and Fitness Services IM East.  
For more information on the Healthy Homecoming Walk and other Health Promotion initiatives, visit healthpromotion.msu.edu.   
# # #