Move More This Fall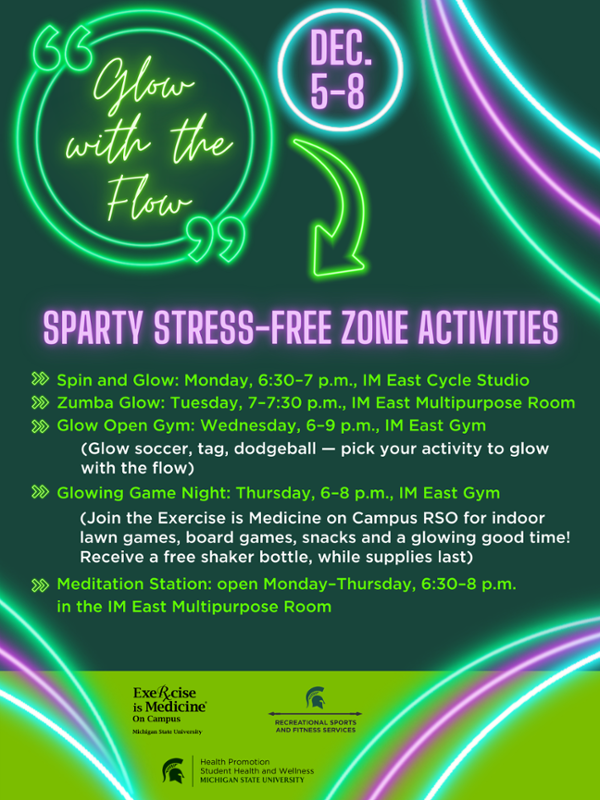 Small changes can add up to big impacts. Moving more and breaking up bouts of sedentary behavior can improve mental and physical health as well as academic and professional success.
The SPARTANfit Fitness and Wellness program, the Recreational Sports and Fitness Services department and Health4U are teaming up to create environments where movement is supported and celebrated for the whole campus community. We want to help you:   
Move More

—regularly, and throughout the day.  

 

Move Well

, in ways that are comfortable, empowering and motivating to you, regardless of ability.  

 

Move Anywhere

, whether you're working and learning from home or on campus.

 

Keep Moving

by exploring

physical activity and how it fits into your life year-round!  

 

Move for the Planet, 

incorporating movement into our daily commutes, while running errands, or for other parts of our lives to make a difference for our minds, bodies, and environment.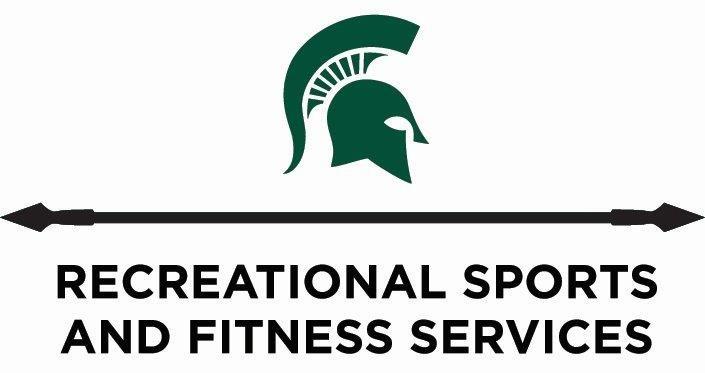 MOVEMENT CALENDAR
November
'Tis the Season for Body Kindness
SEASON'S GREETINGS: NOTES OF GRATITUDE
MONDAY, NOVEMBER 14
Join Spartans Empower Body Acceptance (SEBA) and make a personalized gratitude greeting card to spread self-compassion and body kindness this holiday season.

IM West lobby: 3–5 p.m.
IM East lobby: 5-7 p.m.
BODY KINDESS VIRTUAL SEMINAR
TUESDAY, NOVEMBER 15 AT 7 P.M.
Join registered dietitian Anita Dharwadkar for helpful self-care tips and strategies to develop a positive relationship with food and your body during the holidays.

Join Zoom Meeting HERE
Meeting ID: 965 7859 5233
Passcode: SEBA
BODY POSITIVE FITNESS CLASSES
MONDAY, NOVEMBER 14 – FRIDAY, NOVEMBER 18
ALL fitness levels welcome! No prior experience or registration required. Participants will receive a body-positive affirmation card at the end of class. Open to anyone with an active Rec Sports membership.

Strength Training: Monday, 5:30-6:30 p.m., IM EAST Studio
Core Yoga: Tuesday, 6-6:50 p.m., IM EAST Studio
Rhythm Ride: Wednesday, 5-5:30 p.m., IM EAST Cycle Studio
Zumba: Wednesday, 6-6:50 p.m., IM EAST Studio
Power Yoga: Thursday, 5-5:50 p.m., IM EAST Studio
SoulFusion: Friday, 5-5:45 p.m., IM EAST Studio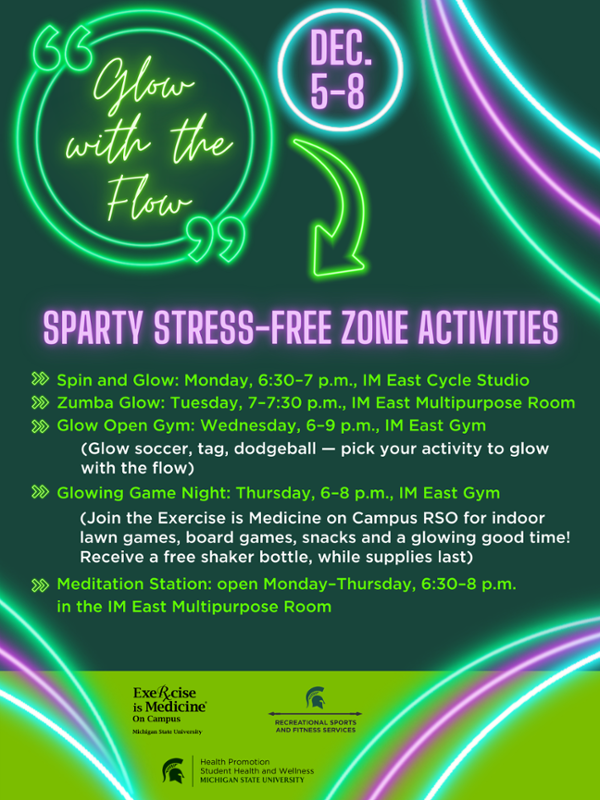 December
Sparty Stress Free Zones

 

 
December 5–9


IM East and West

 



Take a study break, unwind and de-stress for success before finals in Sparty Stress Free Zones at the IM's spaces exclusively designed to support you! Join us for activities and events in the zones all week long. Must have an active Rec Sports Membership to participate.  

 

 

 

Glow with the Flow Activities:

Spin and Glow:

Monday, 6:30-7 p.m., - IM East Cycle Studio

Zumba Glow:

Tuesday, 7 p.m.-7:30 p.m. - IM East Studio

Glow Open Gym:

Wednesday, 6-9 p.m. - IM East Gym
(Glow soccer, tag, dodgeball - pick your activity to glow
with the flow)

Glowing Game Night:

Thursday, 6-8 p.m. – IM East Gym
(Join the Exercise is Medicine on Campus RSO for indoor
lawn games, board games, snacks and a glowing good
time! Receive a free shaker bottle, while supplies last)


Meditation Station

is open Monday-Thursday from
6:30-8p.m. in the IM East Multipurpose Room.
Fall 2022 Wednesday Walks
Wednesdays, 12:05–12:45 p.m.  
This fall, take time to step away from your desk, explore campus and be active with colleagues. The Wednesday Walk series is a collaborative program designed to bring Spartans closer to MSU's beautiful campus spaces while learning from experts and engaging in a restorative wellness practice during the workday. Comfortable shoes recommended.  Open to MSU Students, Faculty & Staff. Sponsored by MSU Health4U, MSU Sustainability and WJ Beal Botanical Gardens.  
September 28: Sustainability @ MSU. Meets at International Center Lawn near Wells Hall 

 

October 5: Highlights of the Red Cedar & Beal Garden. Meets at WJ Beal Botanical Garden 

 

October 12: 2023 Healthy Homecoming Walk. Meets at Dem Hall Field 

 

October 19: Baker Woodlot bike-to-hike. Meets at MSU Bikes  

 

*Walks will be canceled in event of rain.