Spartan Named Inaugural American College of Sports Medicine Certified Professional of the Year
April 26, 2021 - Elizabeth Carr
The American College of Sports Medicine has named Kristin Traskie as the inaugural ACSM Certified Professional of the Year. Traskie is a fitness and wellness coordinator in the Michigan State University Health Promotion Department.
Announced during the ACSM 25th anniversary International Health and Fitness Summit, the award recognizes members that demonstrate exceptional leadership, motivation and instructional skills, as well as the ability to inspire clients to achieve health and wellness goals.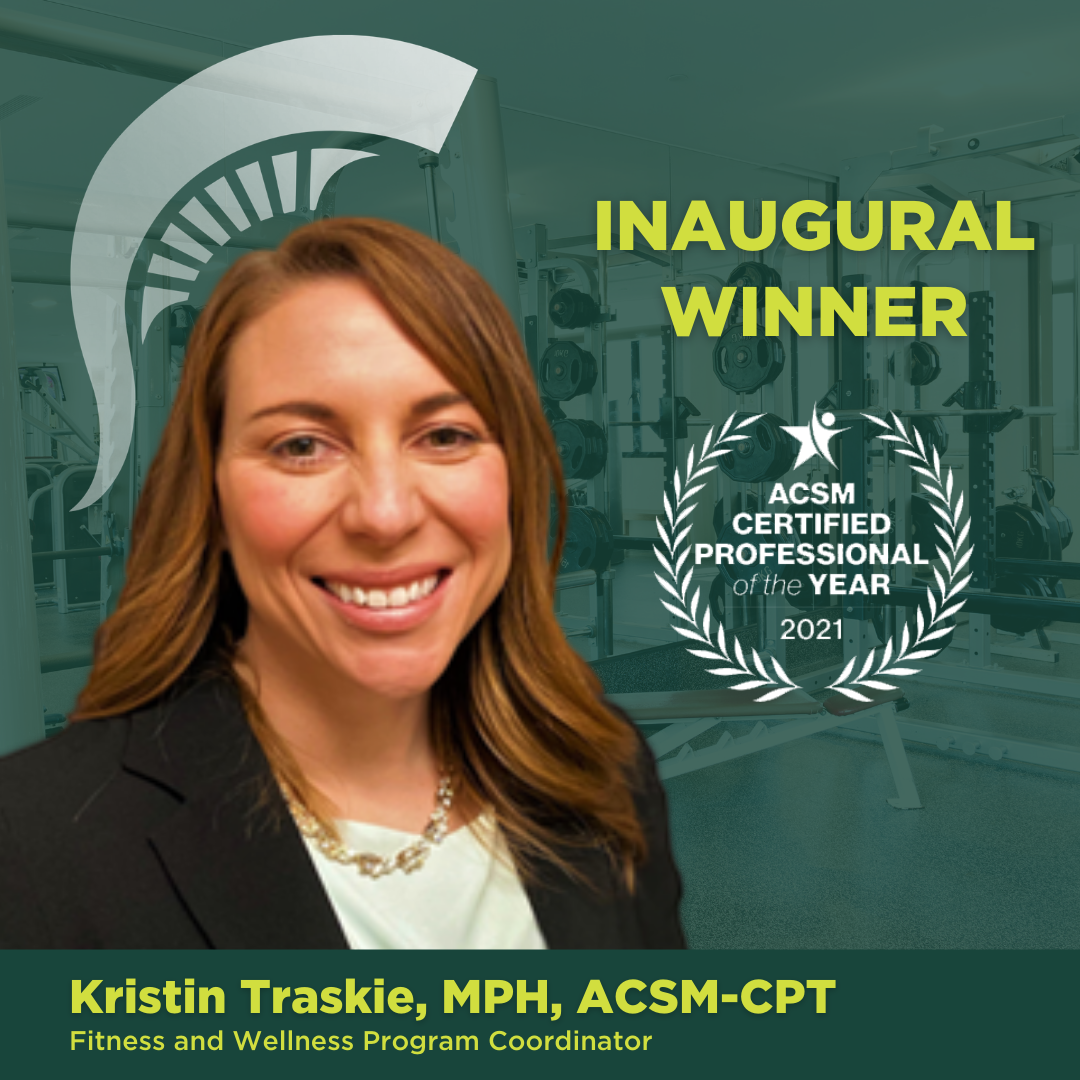 Christie Ward-Ritacco, chair of ACSM's Committee for Certification and Registry Boards, said the recognition was well-deserved.
"Kristin represents the best of the fitness industry, and we applaud her passion and dedication to make a positive, lasting impact in her community and the world," said Ward-Ritacco.
For Traskie, it's all part of her work to create a culture of health and well-being on MSU's campus — and in the community.
"I'm so honored to receive this award," said Traskie. "Whether I'm personalizing an exercise program to help someone achieve fitness goals, leading our campus in a community health initiative or advocating for built environment interventions to increase physical activity, my certifications have boosted confidence in my ability, knowledge and competence to make a positive impact."
At MSU, Traskie leads the Exercise is Medicine®; on Campus initiative and is a member of the University Well-Being Coalition leadership team. Her work with the SPARTANfit Fitness and Wellness Program aims to help improve health outcomes and health satisfaction for students. Traskie's data-informed approach to her work helps her create opportunities that promote overall wellness and movement as part of a healthy lifestyle.
Along with her ACSM Personal Trainer®; certification, Traskie is a National Board for Health and Wellness Coaching certified Health and Wellness Coach and holds several other certifications including Exercise is Medicine Level 1 Credential; Aerobics and Fitness Association of America Group Exercise Instructor, Wellcoaches®; and American College Health Association College Health and Wellness Professional.
Traskie earned her bachelor of science degree in wellness, health promotion and injury prevention from Oakland University and her master of public health degree from Old Dominion University.