East Lansing Responsible Hospitality Council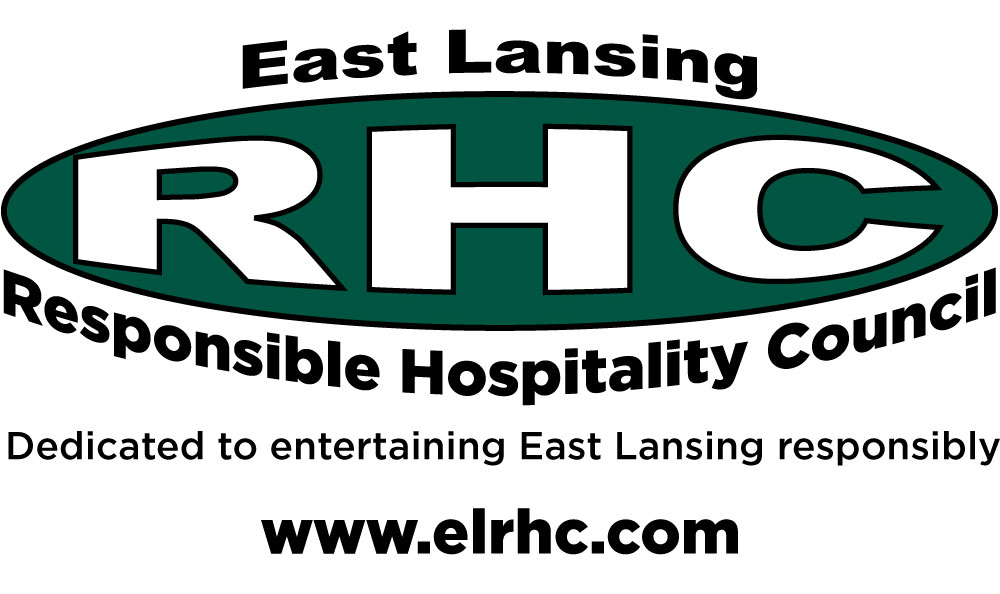 Who We Are
The East Lansing Responsible Hospitality Council (RHC) was started in 1998 by a group of East Lansing restauranteurs to promote the responsible promotion and service of alcohol to the East Lansing community and its guests. RHC does this through promoting responsible advertising, safe on-site management, community stewardship, compliance with state and local liquor laws, and responsible alcohol consumption by patrons throughout all of the member establishments. The East Lansing RHC and its members are proud to be MSU neighbors and look forward to serving the community.
Membership
Full Membership: All establishments licensed by the State of Michigan to serve alcohol in the Greater East Lansing area are eligible for membership as a cooperating establishment of the RHC, with all the benefits and responsibilities of full membership as outlined under Article II of the RHC Bylaws. Membership in the RHC commences upon payment of dues, the establishment's agreement to comply with the Best Management Practices, and meeting attendance requirements as adopted by the RHC.
Current Members
Advisory Membership: The RHC welcomes non-alcohol serving establishments and organizations to participate in the RHC as advisory members. These members do not hold voting privileges, nor are they required to pay dues or meet attendance requirements as established for full membership. Community members invited to attend the RHC meetings as advisory members shall minimally consist of representatives from area Police Departments, Michigan State University, the State of Michigan Liquor Control Commission and Local Cities and Township Offices.

The primary role of advisory members is to provide information to the RHC that will assist the membership in meeting the tenets of our organizational purpose as outlined above.
Executive Committee
The Executive Committee of the Responsible Hospitality Council consists of Co-Chairpersons whose primary responsibilities are to prepare meeting agendas, preside over full RHC meetings, and attend to the financial matters of the RHC. The Executive Committee meets monthly except in the months of May and June of each year. Executive Committee meetings are open to all members of the RHC.

The current Executive Committee members are Pat Riley (Harpers/P.T. O'Malley's), Michael Krueger (Crunchy's), Scott Rolen (Lou & Harry's), and Steve Hermanson (Rick's)
When and Where We Meet
Full RHC meetings are the 2nd Tuesday of every month* from 3:30-5:00 p.m. at Beggar's Banquet, 218 Abbott Rd. (ALL MEETINGS CURRENTLY VIRTUAL as a result of COVID-19)

RHC Executive Committee meetings are the 4th Tuesday of every month* from 3:30-4:30 pm at Crunchy's, 254 East Grand River Ave. (ALL MEETINGS CURRENTLY VIRTUAL as a result of COVID-19)
(printable calendar)

*unless otherwise noted
 

Full RHC Meetings

January 12, 2021
February 9, 2021
March 9, 2021
April 13, 2021
May 11, 2021*
No June of July Meetings*
August 10, 2021
September 14, 2021
October 12, 2021
November 9, 2021
December 7, 2021*

 

Executive Committee Meetings

January 26, 2021
February 23, 2021
March 23, 2021
April 27, 2021
No May, June, or July Meetings*
August 3, 2021*
August 24, 2021
September 28, 2021
October 26, 2021
November 23, 2021
January 4, 2022*
Disclaimer: This webpage is hosted by MSU Health Promotion as a courtesy and in recognition of the unique and valuable role the East Lansing Responsible Hospitality Council plays in relation to responsible alcohol consumption in the East Lansing and MSU community. It should not be construed as support for, or an endorsement of, the alcohol serving industry.