Movement Activities for Prizes!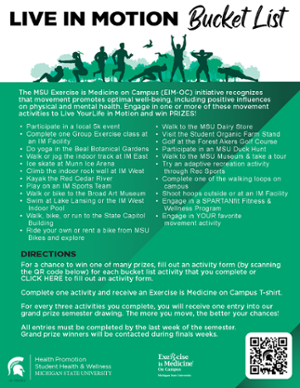 DIRECTIONS
For a chance to win one of many prizes, fill out an activity form for each bucket list activity that you complete. CLICK HERE to fill out an activity form.
Complete one activity and receive an Exercise is Medicine on Campus T-shirt.
CLICK HERE to view the list of movement activities.
For every three activities you complete, you will receive one entry into our
grand prize semester drawing. The more you move, the better your chances!
All entries must be completed by the last week of the semester.
Grand prize winners will be contacted during finals weeks.