7th Annual Healthy Homecoming Walk to Take Place October 12
September 27, 2022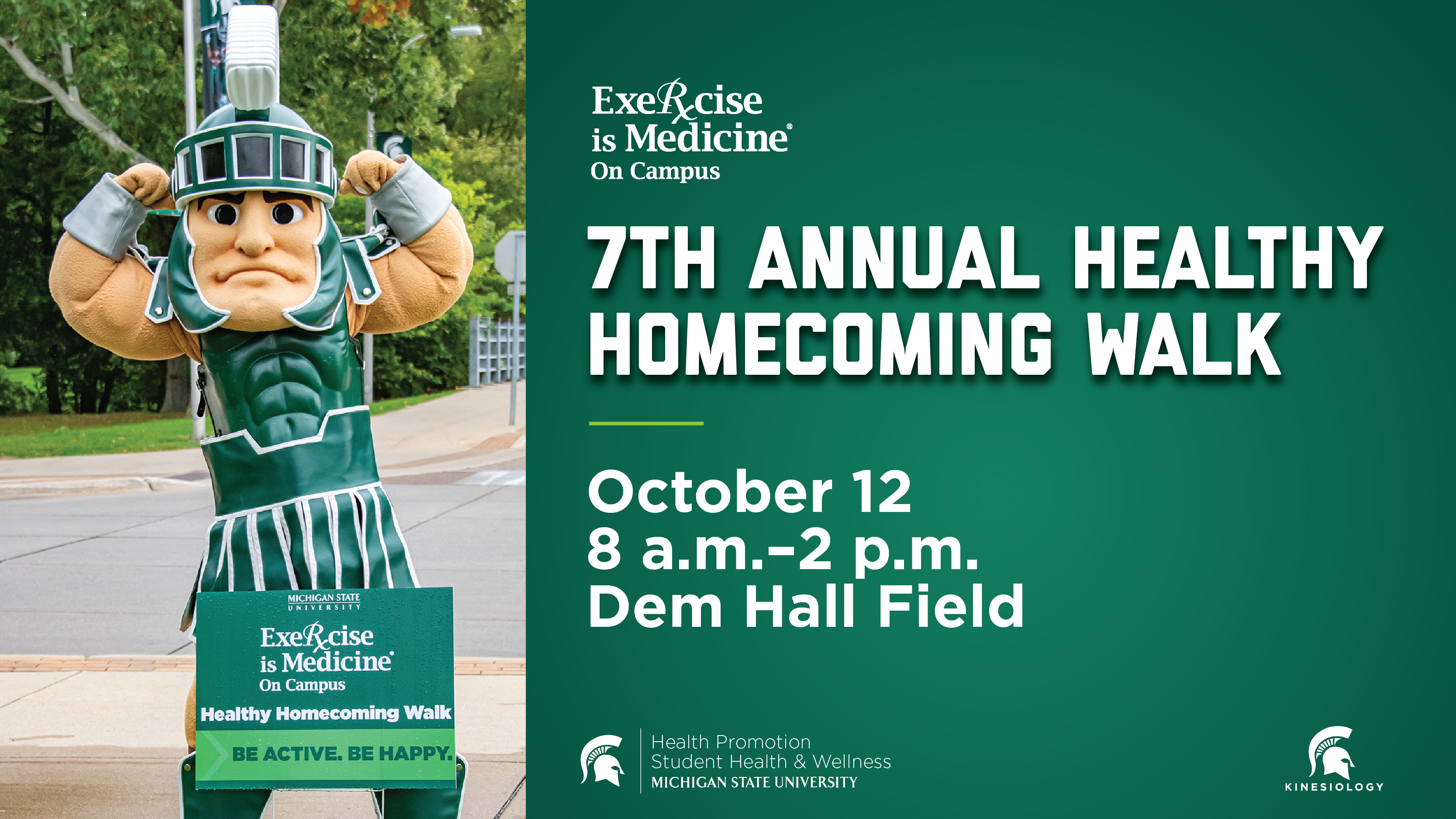 East Lansing, Mich., September 27, 2021— Michigan State University will host the seventh annual Exercise is Medicine on Campus (EIM-OC) Healthy Homecoming Walk on Wednesday, October 12.
The walk is a friendly competition with other EMI-OC universities in the U.S. and aims to promote exercise on campus. Participants can walk or wheel quarter-mile laps around the sidewalk of the field at Demonstration Hall any time between 8 a.m. and 2 p.m. In the event of inclement weather, the walk will take place inside IM East Fitness Center. Participation is open to MSU students, faculty, staff and alumni and the first 150 people will get a free prize. 
Several MSU departments will facilitate wellness activities, including a trivia wheel, minute-to-win-it game, a SPARTANfit fitness challenge and more between 11:30 a.m. and 1: 30 p.m.
Kristin Traskie, fitness and wellness program coordinator in MSU's Health Promotion department, said the Healthy Homecoming Walk encourages the campus community to remember the many benefits of physical activity.
"Moving more in ways that are empowering, comfortable, and motivating for you can improve both mental and physical health, impact academic and professional success, and positively impact our minds, bodies and environment in meaningful ways," Traskie said. "Every year, this walk provides an inclusive space for the MSU community to embrace and support movement as a prevention and treatment modality that improves overall well-being."
Katharine Currie, assistant professor in the Kinesiology department, serves as a leadership team member for EIM-OC. Currie emphasized that starting small with movement can make a difference for a person's health.
"Through the efforts of the Exercise is Medicine on Campus program, Spartans will have several opportunities to connect and engage in physical activities on campus," said Currie. "Even a few minutes of movement can help you feel better!"
For more information on the Healthy Homecoming Walk and other Health Promotion initiatives, visit healthpromotion.msu.edu.  
# # #
Media Contact
Elizabeth Carr, Marketing & Communications Manager
Student Health and Wellness